Eric Turkewitz has tried personal injury cases to verdict in New York, Bronx, Brooklyn, Queens, Staten Island, Nassau, Suffolk, Westchester, Rockland, Dutchess and Albany counties. He has argued appeals in the the Second Circuit Court of Appeals, Appellate Division First Department and Appellate Division Second Department.
Education and Credentials
1982 State University of New York at Albany (B.A.)
1985 State University of New York at Buffalo, Faculty of Law and Jurisprudence (J.D.)
Admissions to practice:

State of New York
U.S. District Court, Southern District of New York
U.S. District Court, Eastern District of New York
United States Court of Appeals: Second Circuit
United States Court of Appeals: Eleventh Circuit
United States Supreme Court (admitted 2016, story here)

Professional memberships:

American Bar Association
American Association for Justice
New York State Trial Lawyers Association
New York City Bar Association
Awards/Honors
Presentations, Publications, and Misc.
Guest speaker, Columbia University, School of Professional Studies (2023)
Scoring Judge, American Mock Trial Association, 2022, 2023
Court: Junk Science Tossed Into Junker (Huffington Post, 12/18/17)

Keynote Speaker, Radius of Influence, Personal Injury Attorneys as Bloggers (Clearwater Beach FL, 2017)
Op-Ed: New York Needs More Robust Anti-SLAPP Legislation, New York Law Journal (February 4, 2015)
Invited speaker/panelist for continuing legal education seminar: PR for the Personal Injury Attorney (And New York's Anti-Solicitation Rule), New York State Trial Lawyers Institute, December 2013
Speaking Engagement: The Use (and Misuse) of Social Media by Attorneys (March 2012)
Cuomo's medical malpractice 'reform' will hurt victims and taxpayers (The Journal News, March 20, 2011)
Better Blogging Practices (June 2010, Tampa, FL)
Faculty for Continuing Legal Education Seminar — Blogs: What You Must Know About Creation, Effective Use Ethical Considerations (October 2008, New York, NY)
Opinion: Want to cure high malpractice rates? Target bad doctors, The Journal News, July 29, 2008
Invited speaker: Pharma Secure Chain, Strengthening the End-to-End Integrity of Your Supply Chain against Counterfeiting, Diversion and Product Loss, July 2005
Article Reviewer: American Association for Justice / Association of Trial Lawyers of America
Invited speaker/panelist: TRAX, Pharmaceutical Supply Chain Summit, July 2004
Opinion: Counterfeit Drugs and the Danger to Westchester (Municipal Liability for Counterfeit Drugs), Eric Turkewitz, The Journal News, February 16, 2004
Scoring Judge: Student Trial Advocacy Competition, Association of Trial Lawyers of America, February, 2003
Panel speaker: Food and Drug Administration — Counterfeit Drug Task Force, October 2003
Member: Trial Lawyers Care, providing pro bono legal services to September 11 families in front of the Victim Compensation Fund

Creator and author of the

New York Personal Injury Law Blog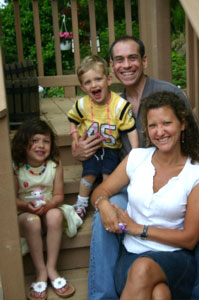 Resumé
1989 – Present: The Turkewitz Law Firm
1988-1989: Travel, ten months through parts of Europe, North Africa, the Middle East and Asia.
1985-1988: Fuchsberg & Fuchsberg, associate attorney concentrating in medical malpractice
Personal
Mr. Turkewitz is married, has two children, and lives in the New York metropolitan area.
He's also an avid runner who has run the New York City Marathon on numerous occasions, and is the founder and Race Director for the Paine to Pain Trail Half Marathon in Westchester County, from its creation in 2008 to present.
Giving Back
This is how Turkewitz elects to give back to his community.